To meet the needs of those who cannot leave the house for various reasons, CEDAL has extended its services to include home care, which has been available for some time already.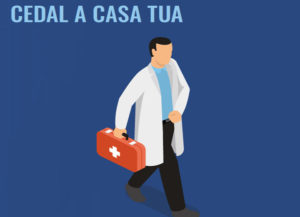 By simply booking an appointment, you can benefit from attentive and professional care in your own home.
WHY AT HOME?
With the exception of acute situations, emergencies or intensive care, the home is the preferential place to treat the patient.
The danger of the spread of diseases is minimal in the home, and the course of the disease is better and faster.
HOME CARE:
TEST SAMPLES
SEROLOGICAL TESTS AND SWABS FOR COVID-19.
INJECTIONS
NURSING CARE
PHYSIOTHERAPY
INSTRUMENTAL DIAGNOSTICS:
BLOOD PRESSURE HOLTER MONITOR
CARDIAC HOLTER MONITOR
ECG
OXIMETRY
PERFORMED BY SPECIALIST STAFF
Procedures are performed safely by: professional nurses and physiotherapists.
WHAT THE HOME CARE SERVICE DOES NOT INCLUDE:
Diagnoses and treatments that are not on this list.
HOW MUCH DOES THE HOME CARE SERVICE COST?
The home care service is offered at the usual rates, just as if it was provided at our centres. There is an additional flat-rate fee for the call-out.
INFORMATION AND BOOKING:
➤  GALLARATE  TEL. 0331 797529
➤  MILANO TEL. 02 6072709